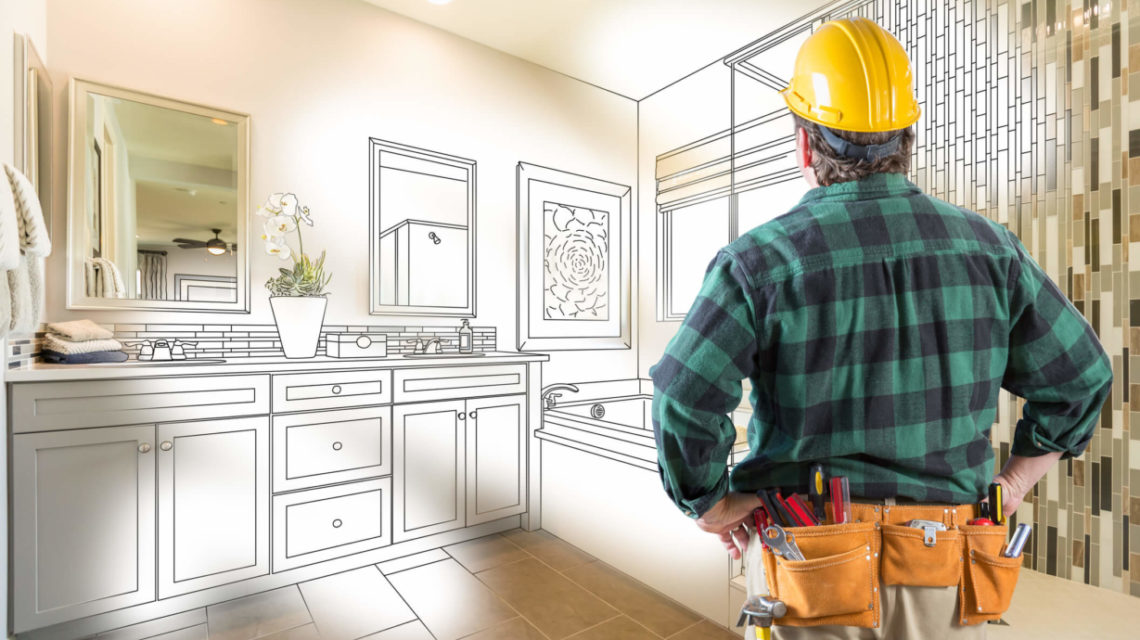 Money Management, Useful Tips, Financial Insight
Use Equity to Upgrade Your Home
Use Equity to Upgrade Your Home
Make your most valuable asset even more valuable.
For most of us, our home is the item we own that is worth the most money.
Which means upgrading and improving your home can make it even more valuable – both for resale and for you and your family to enjoy.
Is there bathroom tile from the 70s you've been staring at for years? Or some dated wallpaper and cabinetry that just looks tired – and would hurt a resale price?
If there's an area of your home you've been thinking about renovating, we can help you make sure you get the most bang for your buck – and don't pour so much money into it you don't recoup that when you sell – whether next year or 10 years from now. And good news – you can tap into your home equity to make the improvements!
We're covering a list of upgrades you can make that ensure you get your money's worth on a future resale.
Best Upgrades for Cost
Minor bathroom remodel – minor meaning a lot of updating without moving the tub to a new place or knocking down any walls. Plan to retile, update the tub or shower, add a new vanity and toilet, and update the sink and fixtures. You can update the tub with a simple reglaze and some new caulk, remove dated wall coverings and add fresh paint. And the curtains! Updating the curtains can make the whole room feel new. For less than $10,000 you can have a whole new room and recoup all or nearly all of your investment when you sell.
Landscaping – The second most effective upgrade you can make is some landscape planning. For an average cost of $5,000 including the design and labor, you can spruce up the whole look of your yard. To refresh your lawn, consider sod, which can make it look lush and full quickly without being really pricey. Add a charming focal point such as a walkway or fountain, which will increase the value enormously. Trimmed greenery around the driveway and colorful flowers in the front will keep your house looking fresh. This is another solid investment where it is not unreasonable to expect to earn all your money back with increased home value.
Minor kitchen remodel – which is less minor than it sounds. It means keeping the same layout and walls, but updating nearly everything in the kitchen. For around $15,000, you can resurface your cabinets, add some new appliances and a new sink, and update the countertops and flooring with affordable options. You can also add some window trim and hardware for a touch of class. A 99 percent return on a kitchen update cost is not uncommon and a big win for many homeowners.
Exterior improvements – This can include repainting the house, removing old awnings, and giving a porch a makeover with updated columns. Add a bright color to your front door, some window boxes, and fix or install new railings. This type of exterior improvement frequently brings about a 95 percent rate of return for homeowners that take this path.
Turning an attic area into a bedroom – This investment adds square footage of living space to your house and if you add a bathroom to the update, will help increase the value of your home significantly. Add attic insulation, with perhaps a solar-powered attic fan to save on cooling costs. Drywall, a ¾ bath, and closet space don't have to be terribly expensive overall.
Major bathroom remodel – this is a little pricier as it can involve adding space to a bathroom, relocating tub/shower/vanity, adding a linen closet, more lighting, etc. With the cost of tile thrown in, this kind of remodel can get to be more expensive – a lot of tile will do that to you. However – if you get the bathroom you've always wanted to enjoy, and get a great resale price when you sell – voila! The best of both worlds. For this kind of major investment, many homeowners gain back about 93 percent of the cost they spent.
Major kitchen remodel – you've heard the value of your home is partially dictated by your kitchen and bathroom – that's not untrue. A major remodel might include new cabinets, adding an island and eat-in stools, a new sink (or two! A cooking sink and a washing sink!), all new appliances and durable, beautiful flooring. An eat-in kitchen has a big resale value, so you can knock down a wall or widen a doorway to get there. Have some fun – add a tin backsplash or French doors. And get those nice, thick countertops you've always dreamed of. For this kind of remodel, only about 91 percent of the costs are generally recouped, but think of the lovely countertops, backsplash, and new faucet!
Adding an outdoor feature – a deck, patio, or porch can add some backyard appeal. While this comes with about a 90 percent return on investment, you can use the opportunity to really make your outdoor space a place you love to spend time in with decorative planters, a gated area, cozy lighting, and clean and painted railings.
Basement remodel – more living space! Most likely a hangout space for friends and family or a playroom, you can add your drywall, flooring, and a bathroom, maybe a wet bar, and some entertainment options. This involves some cost as you may need to update some infrastructure to avoid flooding in the basement, adding flooring takes an extra layer above the concrete, and depending on the state of your basement, it may take some good plans to cover the utilities down there. But in the end – new hangout zone! This is another high-return project with many who undertake the project recouping about 90 percent of the cost for this sort of remodel.
Replacement windows – something many home buyers look for is replacement windows for heating and cooling costs. You'll benefit, too, with reduced HVAC bills on these chilly, chilly days of winter.
No matter what speaks to you on a possible renovation or remodel, all of the above options will pay dividends on the value of your home. And even better, you don't have to pay cash out of pocket for updating your home. Both a home equity line of credit or a home equity loan can offer you a great interest rate based on the equity you have in your home.
If you're going to go ahead and invest in updating your home, you want to make sure you're making the right choices (put down the lime green paint swatch). When you're looking to update your home, there are also upgrades that are not worth the investment if you are hoping to earn the money back when you decide to sell.
Here's our hit list of not-to-dos:
Luxury bathroom that doesn't match the rest of your house. Make it nice, but don't make it look like it doesn't belong.
In-ground pool – So fun! But SO expensive to install and maintain, and could detract from a family purchasing your home in the future for safety reasons.
Wall-to-Wall carpeting. Hard to keep clean, holds pet dander, and hardwood floors are much more timeless and easy to maintain.
Sunroom: It's such a lovely addition, but unless its in a very upscale neighborhood, it just won't hold the value during a resale.
Built-in aquarium. It's not worth the construction cost.
High-end landscaping requiring expensive upkeep because the gardens are high-maintenance.
Quirky décor – although this one we say lightly. If you like teal, go with teal. But before selling, plan on going with grey. For more permanent choices, such as tile or major changes, consider something that would be more neutral for a future resale.
Now you've got all the information you need to plan a home renovation! What your best options are for home value, what not to invest in, and what kind of financing you can use. Contact us today to talk about next steps to get on the road to making some great changes in your home!