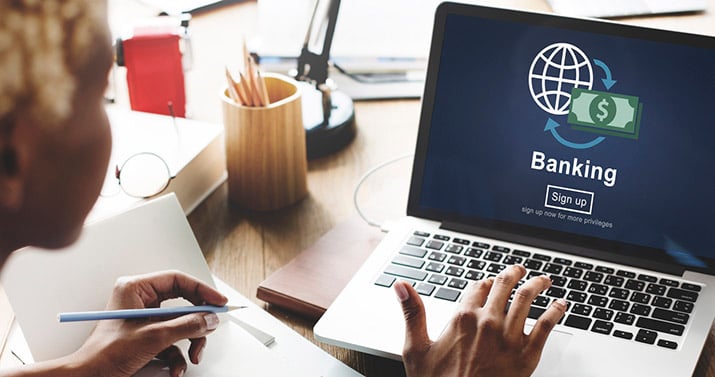 Financial Literacy, Financial Insight
Online Banks vs. Traditional Banks vs. Credit Unions: Which is the Best Banking Option for You?
With 62% of Americans now listing digital banking as their primary method of banking, it's easy to see why more online-only banks are popping up by the minute. We're comparing the advantages and disadvantages to virtual banking versus the traditional branch banking found at most credit unions. Which type of financial institution best fits your needs? Is it worth it to switch to a virtual bank? This is an online banking vs. traditional banking showdown and you are the judge!
Service Offerings
Online banks have evolved to the point where they are able to offer most of the same services as a brick-and-mortar bank. Here are some examples of services that you can find at both our credit union and a popular online bank.
Checking account
Savings account
CDs
IRAs
Credit card
However, there are many additional services you find at your local credit union that are not available at online-only banks. Consider these offerings that are not found at the most popular virtual banks, but are free at our credit union and many others.
Specialized accounts for children
Free notary service
Safe deposit boxes
Member rewards programs
Partnerships with local businesses for discounts
Change counting machines
Technology & Security
One of the main selling points of an online bank is your ability to do all your banking online! You have access to your funds 24/7 from anywhere with an internet connection. Their technology infrastructure is their top priority, so you can expect their online services to be safe and easy to use. Just make sure the bank is insured by the Federal Deposit Insurance Corporation (FDIC) and that their website only uses secured connections.
With so many people turning to digital banking, even traditional banks have started to invest in online banking services. Credit unions like AmeriChoice are no different. We've offered online and mobile banking for years, and recently upgraded our online banking platform. You can enjoy the convenience of accessing your funds from your phone or computer, but still have physical branches to visit when you want.
Interest Rates & Fees
Virtual banks have low overhead costs, and therefore can provide more attractive interest rates and less fees than many traditional banks. However, credit unions also pride themselves on better interest rates and low fees because of their not-for-profit structure. Here's a quick comparison on the most recent rates and fees you could find at an online bank, our credit union, and a traditional bank.
Rate & Fee Comparison
Interest Rates
Common Fees
Ally Bank (Source)
Savings account: 1.15% APY

Credit Card: 13.74%-23.74% APR

Monthly checking fee: $0

Overdraft: $25

Stop payment: $15

Outgoing wire transfer (domestic): $20

AmeriChoice Federal Credit Union (Source)
Savings account: 0.10% APY

Credit Card: 8.90%-14.90% APR

Monthly checking fee: $0

Overdraft: $35

Stop payment: $30

Outgoing wire transfer (domestic): $25

Bank of America (Source)
Savings account: 0.01% APY

Credit Card: 13.99%-23.99% APR

Monthly checking fee: $12 or $0 with direct deposit/minimum balance requirements

Overdraft: $35

Stop payment: $30

Outgoing wire transfer (domestic): $30
ATMs
Polls continually show that convenient ATM locations are one of the most valuable services to any bank customer or credit union member. If you regularly use an ATM, you want to be able to find one associated with your financial institution nearby, so that you don't incur additional fees. Here's another comparison on ATM offerings using the same financial institutions as in the previous section.
Ally Bank
# of ATMs in U.S.
43,000 Allpoint ATMs
Fee for using non-participating ATM
Whatever that bank would charge (averages $1.50-$3.50) but Ally provides $10 in ATM reimbursement per month
AmeriChoice Federal Credit Union
# of ATMs in U.S.
Nearly 30,000 through the Co-op shared ATM network
Fee for using non-participating ATM
4/per month free then $1.00 per transaction
Bank of America
# of ATMs in U.S.
16,220
Fee for using non-participating ATM
$2.50 each
Customer Service
Often, it comes down to whether you feel comfortable banking without access to a nearby physical branch. Online banks will offer telephone customer service 24/7, but you will never be able to speak with an employee face-to-face. If you need to regularly visit a branch in-person, then online banks will not meet your requirements. If you receive your paychecks via cash, it would be challenging if not impossible to deposit that in an online-only checking account.
Brick-and-mortar financial institutions still have a place in the banking world. If you're frustrated with the fees and low interest rates found at large, traditional banks – a credit union could be a good compromise between virtual and traditional banking. You can take advantage of lower fees and better interest rates and utilize technology like online and mobile banking but still retain access to local branches for personalized service.
Subscribe to the Blog
To get more information about credit union banking and unbiased financial advice, subscribe to our Cents to Save Blog! We'll send regular updates straight to your email inbox. Subscribe now!